3 Tips For Jumping Into Millennial Adulthood After Graduation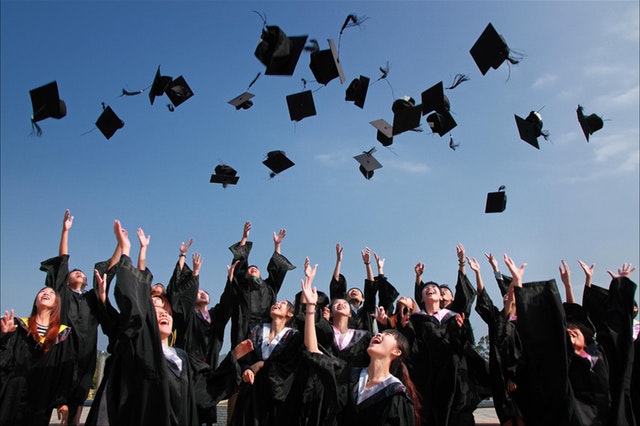 Whether you've just graduated from high school, college, grad school, or are even just ready to get a move on in your life to bigger and better things, the future can seem daunting. You know you have to find a well-paying job, learn how to better budget money while juggling car, mortgage, phone, and student loan payments, on top of everything else, like a social life. If you're a millennial, you might already be starting off at a disadvantage.
The world isn't as big and scary as it might appear while sitting in a lecture hall fantasizing about it, though, and today, as a fellow millennial, I want to help prove that to you. Whether you want to enter the traditional job field, or chase after something a little more modern like a work-from-home freelancer, some of the giants you'll face will be the same — and we millennials have to stick together.
1. Job Hunting
The big fish to catch after graduation is a well-paying job you can write home about. But, for a number of college graduates, it's not as easy as stepping up from intern to a full-time position. In fact, in 2014, 83 percent of college graduates didn't have a job lined up for them upon graduation, despite actively looking.
But don't let that number scare you, as it's important to take your fate into your own hands. Don't allow your degree to pigeonhole you into one singular career goal; research the multitude of opportunities available, instead of just those you expect.
For example, with an art degree, you might think you're stuck drawing and painting and seeking a presence in art galleries — but in reality, art degrees mesh with interior design, video game design, advertising and marketing, and even some levels of consumer engineering. Don't be afraid to get creative with your job search and think outside of the box.
On top of that, if you find your individual degree field of work over-saturated, or perhaps ultimately not what you're looking for, the fact that you have a degree at all, in anything, is desirable for employers. Use your degree as leverage to get a job in a different field, even if it's potentially completely different from what you studied. Having a degree or any applicable experience in anything, period, sets you apart from the crowd!
2. Budgeting For a New Lifestyle
Assuming you're eager to move out on your own, whether you lived with your parents or with roommates during college, it's important to consider how your expenses are going to change. Not only will you no longer be splitting rent and other utilities, but now you will have to dedicate money to buying your own food, gas, internet, and so on — quality internet being particularly important if you're planning on working from home, like many other millennials.
Should you be burdened on top of everything else with student loan repayment, as well as any other credit card debt, consider consolidating your debt in an effort to have better control on where your payments are going. Should that work out well for you, the next step is seeking loan refinancing for better payments and interest rates, which can even be applied to student loans.
Even if it's not much, maybe only $20 a paycheck, work on building that savings safety net in case something happens to your car, apartment, or job that will make a considerable hit to your budget. Learn how to clip coupons like a pro, stalk sales, join rewards programs, whatever you need to slash expenses as much as possible. Especially for someone living on their own for the first time, you'll appreciate any extra cash you can get.
Don't worry about amassing a collection of expensive, unique, or even matching furniture after just heading out on your own — instead, focus on building up your collection slowly, as to not overburden yourself. Take advantage of online marketplaces through sites like Craigslist or Facebook and find secondhand furniture to tide you over until you have enough income to supplement your own. A tacky couch is more comfortable than a couch you went into debt for!
3. Renting a New Apartment/Buying a New Home
Even if your credit history isn't great, it's still totally possible to rent an apartment in your own name. Whether you do so through a larger initial deposit, automatic monthly payments, or by utilizing the better credit of a guarantor (usually a parent, or another adult), renting on your own place with mediocre credit isn't a death sentence.
If you'd prefer the monthly payment go toward owning your home (rather than monthly rent), if you'd rather not have neighbors potentially living above and below you, if you'd rather have a safe garage in which to park your car … chances are, home ownership is going to be more appealing to your lifestyle.
With a new home comes the need for (and the freedom for!) possible renovations, and renovations come with their own risks. Be prepared to do the same with your home as you might with your car, determining which problems need a professional touch. But all in all, the extra work might be worth never having to fight over a parking space.
In Conclusion
Life after graduation may seem like a scary thing, but only because it's an unknown. Once you have a foot in it, once you're taking steps to be a part of it, it suddenly seems a lot less scary, and you realize your education is what's pushing you forward. You're smart, and brave, accomplished, and emphatic to the struggles of others, and things like a mortgage or loans aren't going to stop you from doing whatever you want, and whatever you can!
Would you like to receive similar articles by email?